Tis the season for holiday shopping! This year we called in a pair of experts to help pick the top holiday gifts for the dogs and dog lovers in your life.
Meet Kensington a.k.a. Kenzie (@dogfrommarz) and Callie (@calliejeanbeautyqueen), two sisters from Connecticut, who have tested all the latest and greatest dog products this year and chosen their favorites to share with you!
Toys
For the playful pup:
P.L.A.Y. (Pet Lifestyle And You) makes toys, beds and so many more products that you are going to absolutely LOVE. The company is also very environmentally conscious, so much so that 108 recycled soda bottles go into every single one of their P.L.A.Y lounge XL dog beds! They even share a chart on their website that shows how many plastic bottles end up being recycled into each of their products, rather than ending up in landfills.
The first product we want to share with you is their Pet TeePee. These pet teepees are great quality and come in adorable patterns. Each one comes with a plush bedding insert for the floor of the teepee. Set up is a breeze and only takes about 5 minutes. These teepees will actually compliment your home and not look like an eyesore plopped in the corner of your living room.


The second product that Kenzie and Callie have stamped with paws of approval is P.L.A.Y.'s Farm Fresh Plush Toy set. This set comes with an assortment of adorable vegetable shaped toys that both squeak and crinkle. The insides are filled with 100% post-consumer certified-safe recycled plastic bottles and are machine and dryer friendly. These toys have quickly become some of Kenzie and Callie's favorites. For some reason, Callie and Kenzie always seem to fight over who gets to play with the eggplant shaped toy first!
Next up is their Luxe Throw. This blanket is a life saver for your couch! It's heavyweight and double-sided as well as being water resistant. You can use it to cover your dog's bed or it can be a great addition draped across the end of your bed. Kenzie and Callie love to lay on this blanket and their family loves that they don't need to clean up clumps of hair from all their cushions.
Current list prices: Pet Teepee starting at $69, Farm Fresh Plush Toy set for $29, Luxe Throw starting at $79
EXCLUSIVE DISCOUNT CODE FOR YOU: Use code LINKAKC15 to get 15% sitewide


For the anxious pup:
The Snuggle Puppy from Smart Pet Love is the perfect gift for any dog that may suffer from anxiety. Callie, being a rescue dog with an abusive past, absolutely loves this toy. This cozy stuffed animal has a "real-feel" pulsing heartbeat and a heat insert that mimics the companion of another dog. Your pup can snuggle next to this toy and feel like they are back with their littermates. The Snuggle Puppy is also great at helping new puppies sleep through the night!
That brings us to the Snuggle blanket. This blanket is as soft as can be and provides warmth for your pet. It is machine washable and the perfect blanket to put in your dog's crate.
Current list prices: The Snuggle Puppy $39.95, Snuggle Blanket $15.99
Treats
For the craft beer lovers and their dogs:
Picture this: It's a Friday night and you're sprawled out on your couch ready to crack open a cold bottle of beer. Your pup is sitting beside you, gazing at you with those big brown eyes. ENTER Beer Paws Doggy Beer. This product is "beer" for your dog! It is made up of beef base, malt extract, and vegetarian K9 Glucosamine. Don't worry though, it's alcohol-free but your pup is going to absolutely love it. You can splash some over their food, give them some in a bowl to enjoy, or even freeze some an ice cube tray as a fun treat. Callie loves it when her family adds a little bit to her kibble at night.
What's a refreshing bottle of beer without some snacks to munch on? The company also created Peanut Butter Flavored Beer Biscuits for your dog to enjoy. They come in an awesome plastic tub (100% recyclable) and are a win-win. They are made of recycled brewer's grain, enriched flour, peanut butter, and eggs. These treats contain no soy, hops or preservatives. Kenzie and Callie beg for these treats the second they see the carton come out.
Current list prices: Beer Paws Doggy Beer $9.95, Peanut Butter Flavored Beer Biscuits $15.95


For the pup that needs a little relaxation:
Treatibles is a company that makes organic full spectrum hemp oil treats and supplements for dogs. They have everything from chewy treats to hemp oil droppers and capsules. Their goal is to create products that help facilitate a calm, ease and balance for pups. They are Compassion Certified®, and are made in the USA from USA-sourced ingredients. The hemp oil they use is organically grown from their own fields in South Carolina, Kentucky, Oregon, and Colorado.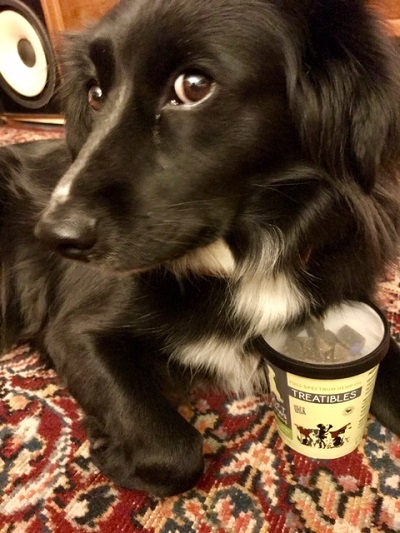 Callie's pawrents gave her one of these chews and saw a noticeable difference. The doorbell even rang and Callie got up to greet a visitor but didn't bark incessantly like she normally does! It could be a coincidence but either way, these chews seem to give her a nice calm feeling without making her drowsy or tired.
Current list prices: Soft Chews 10ct for $28, 60ct for $38
Dog Bed
Zen Den is a revolutionary dog bed that is designed and manufactured in the US. They are machine washable and come in all sizes. The best part of Zen Den beds are the blankets that come attached to the cushions. Dogs inherently have a bedding instinct which leads them to paw at their bed to make it as comfortable as possible. This fleece sheet satisfies that urge for them!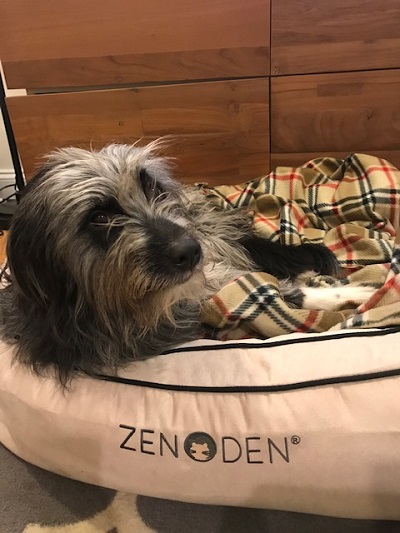 Before Zen Den, it used to take Kenzie at least 5 minutes to "make her bed". She would paw at it and lift up the top and sides of the bed with her teeth to get comfortable. The anti-pill fleece attachment on this bed is like magic. When Kenzie's paws make contact with the bed she is ready to jump right in and call it a night.
Current list price: Zen Den beds starting at $99

Out & About
For the adventurous dog:
The K9 Sport Sack is a forward facing backpack for your dog. All you have to do is strap your dog in and they are ready to head out on all your adventures with you. Since Kenzie and Callie are too big for the K9 Sport Sacks, they enlisted their friend Devito (@devito_digs_ny) for this review. Devito loves being toted around New York City in his K9 Sport Sack. His mom Nancy loves the security of having him securely attached to her in the big city.
Current list price: Starting at $69.95


For the fashion-forward dog:
Wild One: If you're looking for a quality collar and leash duo, look no further than Wild One. Their and collars are made with flex-poly straps and are stain, odor and dirt resistant. Also, they are non-toxic and pet-safe which is super important especially for dogs like Kenzie who get caught chewing on their leashes from time to time. They have a number of products including leashes, carriers, collars, harnesses, beds, bowls, and even their own poop bags and holders! Right now they have a sale going for their "Walk Kit" that includes their signature collar, leash and poop bag carrier.
Kenzie is a self-proclaimed fashionista so this when she received her collar and leash combo in the mail, she couldn't wait to take it for a stroll around town. The best part is, she can even wear her Link AKC Sport's Sleeve directly on the collar!


For the traveling pup:
My Pet Pail is the product you never knew you needed! Let's say you're going on an adventure with your dog or an overnight trip. First, you need to pack their food and measure it into meals. Next, you need to pack a set of bowls. You have to make sure to pack some poop bags for the cleanup too. You're juggling plastic ziplock bags, bowls, and a carrier for it everything to fit. My Pet Pail is the answer to all of this. It is an adorable container that has plastic jars to keep food or water in and also doubles as a bowl set for when you get to your destination. The strap on the carrier can be used as a dog leash and the back of the bucket has a hole to dispense poop bags. They come in adorable colors like black with mint green accents.
One thing to know about Callie is she is known to get hangry. If she hasn't been fed by 6 pm each night she is feverishly hunting around for anything she can find on the floor. The My Pet Pail is awesome because even she when is out traveling with her family, they have her food and water on hand AND adorable bowls.
Current list price: Regularly $89.99


For the rugged dog:
Rex Specs are goggles for dogs. While they are designed with working dogs in mind, they can be useful for dogs of all kinds! If your dog comes joins you on adventures such as hiking Rex Specs can be very helpful. Their website states that many dogs are diagnosed with some sort of eye ailment by the time they turn 8 years old. Many of these can be avoided by protecting your dog's eyes from harmful elements, such as the sun, debris, grasses, and brush.
Kenzie and Callie both love running through the woods surrounding a local golf course so this type of device could really come in handy. Callie has tried them and while it took some time for her to get used to wearing goggles, once she wore them on and off for a few days she seemed to be comfortable in them. Here's our friend Banks (@palmettomoonpointers) modeling them for you.
Current list price: $79.95

Technology
Being a helicopter dog mom isn't a bag thing -
With Petzi, Kenzie and Callie's family can check in on them from anywhere. By launching the Petzi app, they can use voice audio or a bell sound to capture their attention. While watching live video of them approaching the Petzi cam, they can toss over a treat or two while praising them.
Current list price: $149.99


For the adventure dog or escape artist:
The LINK AKC Collar is designed for all your dog's escapades, planned or not. Both the Classic leather collar and Sport collar are built to endure rugged conditions, with impact and water resistance. Find a lost dog with GPS location tracking, or use the Adventures feature to map and save your journeys together. With activity tracking, LED light, temperature alerts, and more, your dog will always be prepared.
Current list prices: $129


For a pet-friendly office or home:
Primo is a water dispensing system that has a dog bowl attached to the bottom ($160). Unlike a normal water dispenser where you can either press for hot or cold water, Primo has another option that happens to be shaped like a paw print! When pressing this button, water is dispensed into the bowl attached at the bottom.
Current list price: $160


For the mystery pup or health nut:
Embark Dog DNA Test: If you've ever wondered about your dog's ancestry, you can now run the numbers on your dog's genetics and find out their lineage.
Current list price: $199
Whether you're looking to share the holiday cheer with your own pup or a dog lover in your life, we hope our gift guide helps you find the pawfect present! Think we missed out on featuring a great brand? Tag us on social media so we can check it out!
Note: All coupons are valid at the time this article was written. They expire during various times.